I'll be honest, I am a serious product hoarder. Whenever I'm inside a Sephora (or any store for that matter), I tend to go bananas with my desire to test out new things. Unfortunately, sometimes those products go past their expiration date untouched or used only halfway… When I use up an entire bottle or tube of something, it means that I really, really liked it.
So I've been saving up a box of empties to rave about some of those products.
Well, let's dive in!
SKINCARE
SkinFood Parsley & Mandarin Toner
Skin Food products always seem to have an amazing scent no matter how exotic the ingredients sound. In this case, two ingredients – parsley and mandarin – that sound like they belong on top of a plate of chicken Francaise and an Asian salad, come together to create the most calming and refreshing toner. The toner is designed to soothe sensitive skin, and although you have to use cotton pads to apply this toner, I found that the watery consistency added to the soothing effect without making my skin sticky. Also, I'm definitely holding onto this gorgeous glass bottle.
Lush – Breath of Fresh Air
Another toner water! Lush toner waters are super convenient because they come in a spray bottle. Breath of Fresh Air has been a favorite of mine since freshman year of college, and it never disappoints. The bottle is lightweight so you can travel with it as well, and the water really stays true to its name… a breath of fresh air for your face.
Etude House – Collagen Moistfull Facial Mist
I got two of these travel-size bottles as a gift from my dad; I misted my way through both bottles in no time. This Etude House facial mist has a slightly sweet tinge and makes my skin feel moisturized and plump. As all fine mists go, it does a really good job of evenly covering all areas of my face.
Innisfree – Green Tea Mineral Mist
Another facial mist! In addition to the Skin Food toner, this toner is one of the items that I purchased in Seoul (read about my Korea haul here). If Etude House's collagen mist had a plumping effect, the green tea in this one has a soothing/calming effect. The scent is cooler as well. Lots of Innisfree shops throughout Korea have large promotions to sell off these mists in huge packages (Buy 1 get 1 free, gift sets, etc.), so make sure to grab some if you're ever in Korea!
HAIR
It's a 10 Miracle Leave-in Product
This product is truly a miracle. If I had to pick one after-shower hair product, it would be this one. It covers all the functions that I could hope for in a leave-in conditioner AND more, without weighing down my hair or leaving an overpowering scent (it has a slightly shampoo-y smell if you know what I mean… which I like.). The price tag could seem a bit much for a small bottle, but it's really worth it. It comes in a spray bottle, but I found it better to spray some onto my hands and run it through my hair.
Renewing Argan Oil of Morocco – Weightless Healing Dry Oil
If you haven't noticed a common theme in my hair products by now, it's that I love using hair care items that don't weigh down my hair but still provide shine and protection. This product falls into that category! I'm usually hesitant when it comes to putting oil on hair, but this product comes in a spray bottle to ensure even coverage, so doesn't make my hair greasy. I found it especially good for fixing/preventing hair breakage and split ends.
Biosilk – Silk Therapy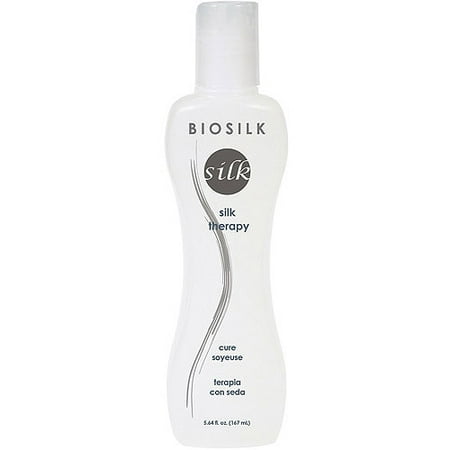 Biosilk products have also been with me for quite some time (probably since middle school!?), and I'm actually using a second bottle of this right now! The Silk Therapy products have a beautiful, unique scent that is easily identifiable. The consistency of the product is somewhat oily, but once it goes on my hair, it turns into a very natural shine. It calms any frizzes or dry ends of my hair – and the cool thing about this is that it's okay to use it on your skin as well! I'm not saying slather this all over your face, but rather on parts of your face/body that are prone to dry spots, like lips, elbows or the heels of your feet.
Klorane – Dry Shampoo with Oat Milk for Brown to Dark Hair
I've used many a bottle of dry shampoo, but this is one of my favorites. It smells great, and is slightly tinted for my dark brown hair. I prefer this one over the brunette dry shampoo from Batiste, which seems to dye my scalp in a very artificial brown color (when I run my fingers through my hair, the powdery particles get caught under my fingernails! Yuck.) The Klorane dry shampoo is a gentler, more natural version in my opinion.
BATH & BODY
Spirulina
I'm not the best at taking my daily vitamins, but taking spirulina really gives me that extra energy boost without the crash. I know a lot of smoothie and juice bars have spirulina add-ons on their menu, so taking it that way is another option. I just found it really easy to pop one of these pills with my morning glass of water.
Trader Joe's 100% Pure Jojoba Oil
Last but not least, jojoba oil is a very frequent empties item for me. I heard that jojoba oil's chemical structure is very similar to our skin's components, so it's easily absorbed into our skin. For those reasons, this oil doesn't turn my skin greasy, but leaves it wonderfully moisturized and supple. Jojoba oil is basically unscented, and in emergency situations can also be used for your hair as well (actually works pretty well. I've tried it 🙂 ).
That about wraps up my first empties post! Hope you guys liked it!