Although the summer months are officially over, it seems like the hot and humid summer weather hit us a little late this year, so summer is going to spill over a little after Labor Day. August was exceptionally ridden with sweat, oily skin, and hair that is somehow flat and frizzy at the same time. Anyway, I wanted to share with you some of the products that I really enjoyed using this month. August was all about those time-saving products for those lazy summer days, and of course, lots of glitter and color.
MAKEUP
LOC One & Done Shadow Stick – Day Trip
I received this stick shadow in the shade Day Trip in one of my Birchboxes a while ago, but I hadn't gotten around to using it until now. I find that anything shimmery or glittery is just so much more fun to show off during the summer months. This eyeshadow is in a pencil form, so it's super convenient to use. I just swipe it across my eyelids after applying eyelid primer, and add a little but of contour by using a slightly darker color on the outer edges of my lids. Then, after a quick blend with a blending brush and eyeliner, my eyes are done!
E.l.f Bronzer
I've always been a fan of using bronzer, but the Too Faced Milk Chocolate Soleil bronzer that I had been using since the beginning of this year was getting a little to hard to use on my tanner skin. I purchased this E.l.f bronzer palette at Target and it has a variety of colors that are nicely pigmented so that I can easily contour my face with just a few strokes. I use the white shade to highlight the area right above my cheekbones to make the bronze more striking. I love E.l.f cosmetics because they offer high quality products at a fraction of the price of anything at Sephora, or even drugstores.
Innisfree Mineral Highlighter – 2 Shiny Sugar Candy
Speaking of tanner skin, nothing complements golden summer skin better than a nice highlight. When paired with the bronzer, this highlighter from Innisfree has been my go-to for giving my face a glow. I purchased this item during my last trip to Korea (haul post here), and I've really been loving it for the last few weeks.
MAC Lipstick – Call the Hairdresser
Last summer I was super into bright pink shades and shocking corals, but this summer I feel like I leaned towards a more natural, glowy look overall. That's why I really enjoyed using this MAC lipstick in the shade "Call the Hairdresser". It has a lustre finish, so the formula is pretty lightweight with a sheer to medium buildable coverage. When I put on lipstick, I usually go for the matte ones, but for a more natural summer look, I feel like this lipstick had been perfect for giving my lips a noticeable tint without being too heavy. It doesn't amplify any creases on my lips and glides on smoothly with a creamy (but not too shiny) finish. I like the rosy mauve that really gives my entire face a bright and natural color.
SKINCARE
I really tried to de-clutter my skincare routine, since I didn't want to overload my skin with products and clog my pores.
Lancôme Énergie De Vie Nuit
I got this sleeping mask when I redeemed my Sephora Beauty Insider points earlier this month. This mask has a slightly herbal, floral scent and I absolutely love the consistency of the formula. It somehow moisturizes my face without leaving it sticky or greasy, and I always wake up with my skin feeling soft and plump. Also, a little goes a long way, so I only have to use a pea-sized amount for my entire face. The one grievance I have is obviously the price, but if any of you have Sephora points to redeem, I definitely think it's worth.
Lush's Herbalism
I am so glad I found this cleanser this summer. It is such a lifesaver when it comes to oily, trouble-prone summer skin. The application process might be a little messy at first, but once you get the hang of it, the results will definitely be worth it. After using an oil-based remover or a cleansing towelette to clean off all my makeup, I take a penny-sized chunk of Herbalism in my hand, splash a bit of water on it, and squish and knead until the chunk has melted into grainy, green juice in my hands. Then I just massage it all over my face, focusing on my T-zone, where my face tends to get the most oily. After I rinse it off, my face just feels squeaky clean but doesn't feel dry at all (it must be the rice vinegar, which does make the cleanser smell a little funky…but after a while it grows on you).
HAIR
TRESemmé TRES TWO Hairspray
I picked up this hairspray on a random Amazon Prime shopping spree. I think it provides the perfect level of hold without making my hair crunchy or greasy; it smells pretty nice, too. I think it's going to become one of my hair product staples from now on.
Not Your Mother's Haircare – I picked up two hair products from NYM this summer – I've really only tried their dry shampoo before, but these two other ones were pretty cool to try out and were really practical for my hair routine all throughout August.
In a HeartBeat Blow Dry Accelerator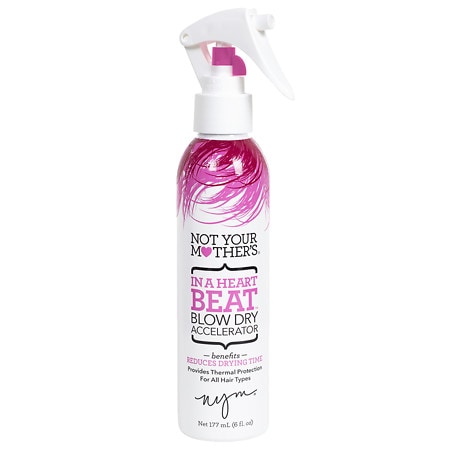 On the bottle, it says this product will "reduce blow drying time so you don't feel like you need to take another shower after doing your hair!" I could totally relate to this, especially as my hair grows longer and longer. On days where I wash my hair in the morning, it takes me a solid ten minutes just to fully blow dry my hair – and in the summer the hot air constantly blowing in my face gets me sweatier than I was before I stepped into the shower. If I'm lazy, then I'll just go outside with damp hair, but often times that magically changes the water in my hair right into sweat. This blow dry accelerator comes in a spray bottle (good news, you can still lock it if you want to travel with it), and by spraying it onto damp hair before blow drying, you can save time on blow drying and provide softness and thermal protection at the same time. I don't know if it significantly cuts blow drying time, but combined with the time it saves from me not having to apply a separate heat protectant by first squeezing it on my hands and running through my entire head of hair, it sure does save me a lot of time. And it has a fresh, strawberry scent to it, which is a plus.
Double Take Dry Finish Texture Spray
This was my first time trying out a texturizing spray, and I think I'm hooked. My hair seriously lacks volume, especially when in contact with sweat or humidity. It provides a hold that is gentler than most hairsprays, so I usually spray it on my second-day hair along with some dry shampoo for some extra volume.
That about concludes my August beauty favorites! Hope you enjoyed it 🙂